The holiday season is important to retail business owners because it's simply often the busiest time of the year. One of the most important holiday marketing ideas you can implement is gift guides. Gift guides allow you to showcase your products, inspire shoppers, and stay top of mind throughout the season. In 2020, more than 45% of people said they would look for gift guides to inform their shopping this holiday season. 
However, creating a gift guide is about more than just gathering your products and putting them in a catalog. There are several other parameters that need to be considered. 
For instance, you can create a holiday gift guide using a landing page, a blog post, and/or an email campaign. This is a great way to increase traffic to your website, bring more customers into your store and generate shareable content for your social media sites without spending a penny. But how should you create a great holiday gift guide? And what's the best way to inspire shoppers and generate more sales? Check out the rest of this blog to learn more about holiday gift guides for retailers.
1. Think about your customers and target audience
Before creating your holiday gift guide, think about your target audience, what customer segments you want to target, and how they will search for and discover your gift guide. 
Consider your target audience's interests, hobbies, and more to determine what to include in your gift guide. You can also segment your existing customers into repeat customers, one-time buyers, types of products purchased, and spending habits. Then, if you create gift guides by price or product type, you'll know which segments are most likely to be interested in those guides. 
For example, if you own a salon, your clientele may be interested in essential oils. In general, retailers should look at the products and services that have been your best sellers this year, received the most rave reviews, or made the most profit, and include all of the above.
Knowing which products sell the most and the type of customer you need to target comes down to having data you can leverage. And for that, point of sale software can be an indispensable tool. This is what we will talk about in the next point.
2. Analyzing Sales Data
Reviewing your sales data from the past year, or even the previous two years, is a great way to make strategic decisions about what types of products to include in your Christmas gift guide. This data can only be obtained through your point of sale software. Consider the following:
Shopper Segments
.
Preferably, your gift guide should contain products that appeal to different buyer segments. If possible, generate sales reports based on customer category. A good retail point of sale should be able to do this. You can also use Google Analytics to find information about their gender, interests, and buying habits. This will help you determine what types of holiday gift guides they might be interested in.
Buying trends
A better way to create holiday gift guides is to consider market and consumer trends. What styles or activities are popular among your target consumers? Are there trends or products that everyone seems to be embracing? A tool like Google Trends can be a great help. For example, if facial oil is more popular these days than facial moisturizer, consider adding a facial oil product to one of your gift packages.
3. Gather Your Customers' Opinions
When talking to customers in-store, casually ask them what they plan to buy for the holidays and what they would like to receive. You'll get a lot of anecdotal information, but if you do it often enough, you and your staff should be able to spot trends. Social media and online surveys can also help you gather information. If you have enough followers on Twitter, you can serve up polls, like Stowaway Cosmetics does, asking its followers what they think about their mascara preferences.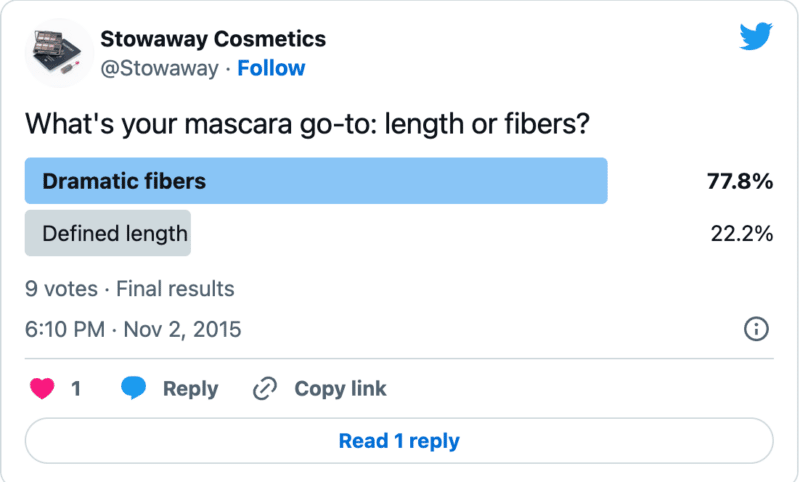 You can do something similar, but for your gift guides. Create a poll listing some of your products and ask people to vote for items that would make great gifts.  Your store employees have first-hand knowledge of your customers and target audience. Their input into selecting products to include in your holiday gift guide is one way to ensure that you're collecting quantitative data and qualitative information.
If you stock various brands, asking your suppliers what products are popular and trending this season is a great way to know what items to include in your year-end gift guide. This can also inform your buying strategy and reduce the likelihood of ending up with excess inventory or stock. 
You can categorize products based on personality, price, and gender, as well as in bundles based on style preferences and buying habits. Next, come up with gift guide names and titles that explain the problem they will help shoppers solve. Here are some ideas on how to organize your holiday gift guide:
Gifts by category
You can split your holiday gift guide into categories: romantic, fun, practical, popular, early, or last-minute. You can also divide it into product categories, such as hair care or skin care, if you sell beauty products for women. 
This lets customers quickly find the category that best suits the recipient or the occasion they are buying for. Here's a great example of a holiday gift guide from BuzzFeed with gift ideas for stocking stuffers: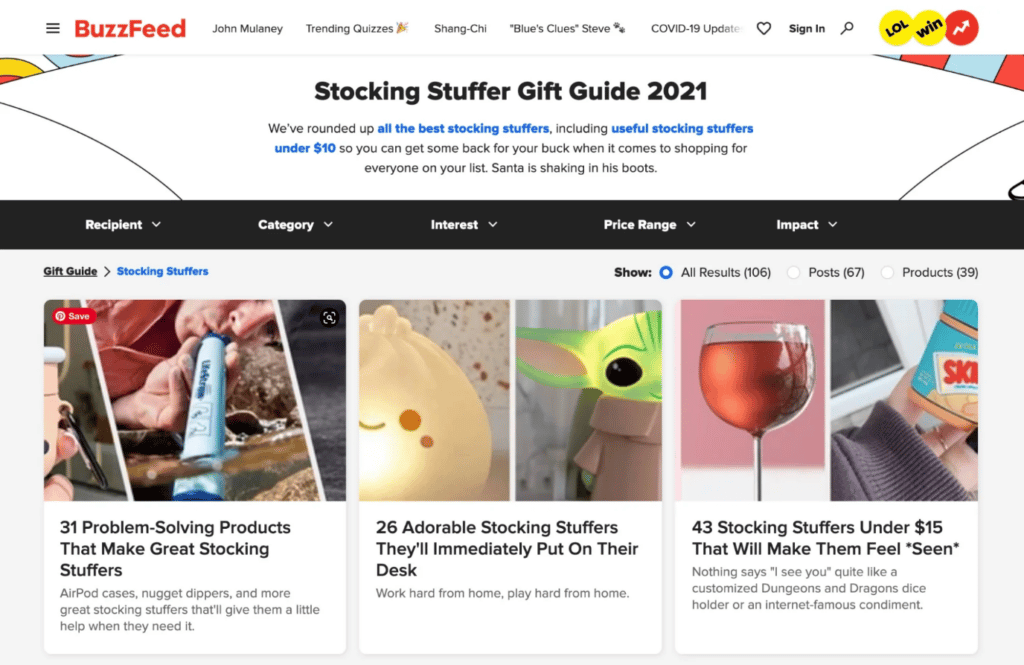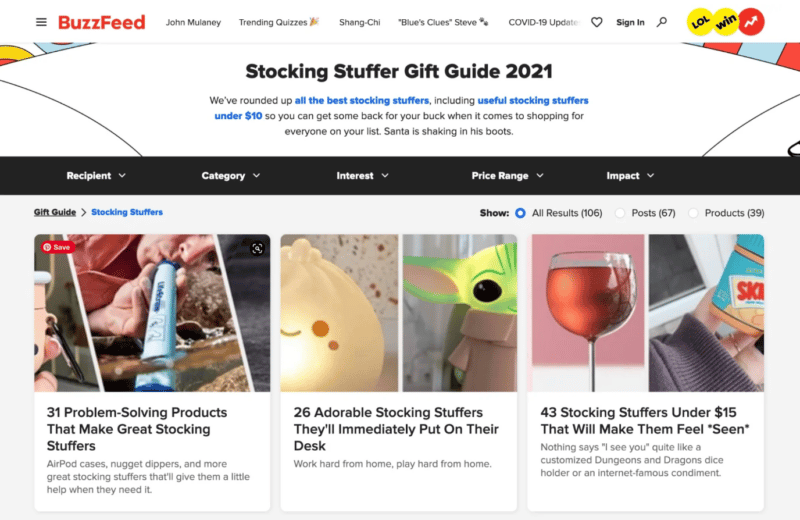 Gifts by budget
Holiday gift guides sorted by price help attract customers with a specific budget. Listing gifts under $25, $50, $100, or whatever value is most appropriate for your business and your customers saves shoppers time calculating costs or guessing what they'll spend. This will make the buying decision easier (i.e., you'll sell more). Here's an example from the Strategist that incorporates humor into the category title: "The Best Gifts for Cheapskates."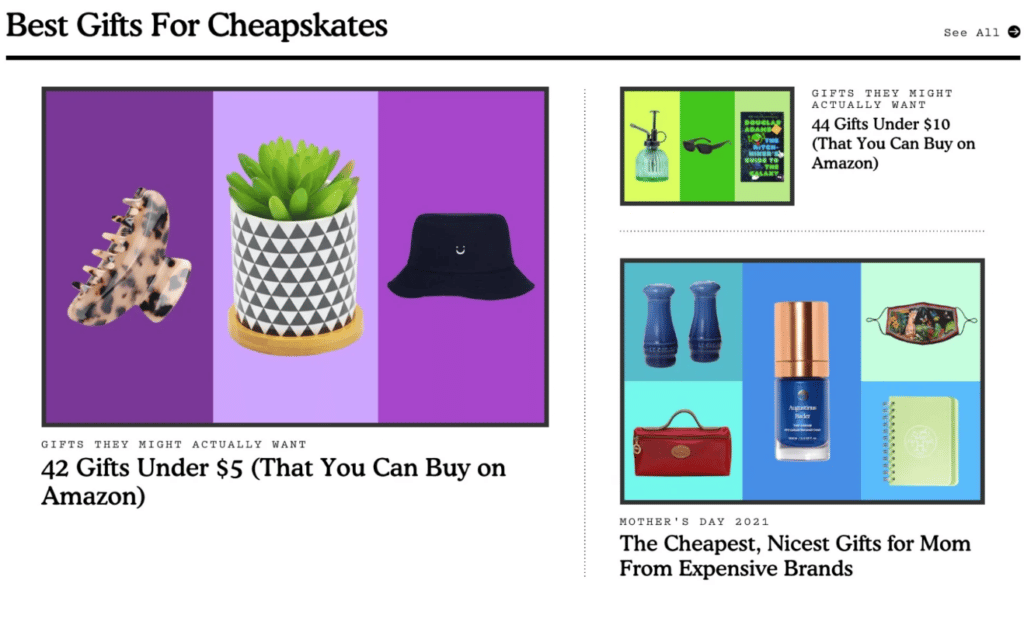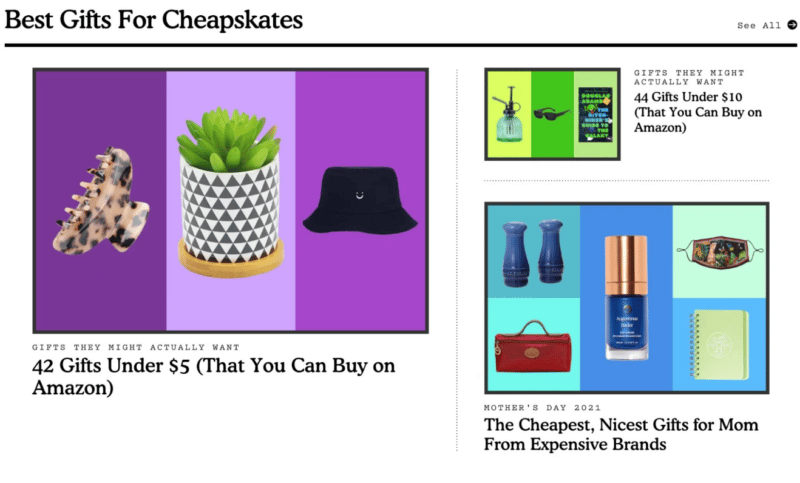 Gifts by personality and interests
Another option is to categorize gifts based on personality. It doesn't matter if your target audience is interested in beauty, fashion, style, food and drink, sports, technology, books, or something else. Creating gift guides categorized by recipients' interests will help buyers narrow down their choices.
Below is an example of Esquire's gift guides that are specific to recipients' interests: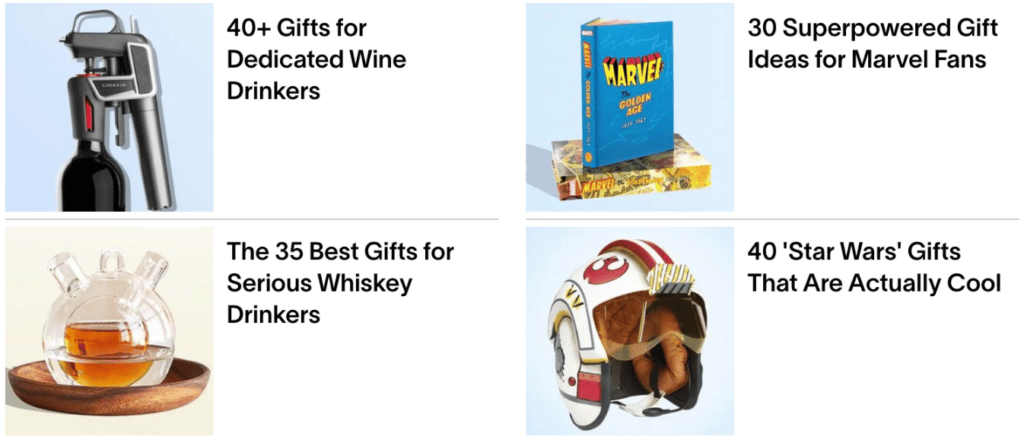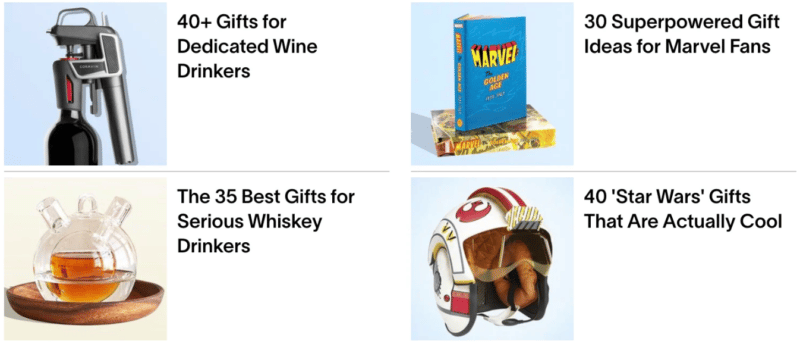 With the data collected from your point of sale software and the opinions of your sales associates, you'll have a better idea of what types of products you should include in your year-end gift guide. Now it's a matter of choosing them. The most important thing is to avoid overwhelming customers with too many options. Make sure your gift guide is a curated selection of the best products so customers can make quick decisions.
Offering a unique discount code is a great way to encourage customers to purchase items from your gift guide. In the event that you can't offer a direct discount on your products or services, consider bundling some of your items or services into a special offer to encourage local customers to purchase multiple products or services from your business. This could be a free $10 gift card with the purchase of every $50 gift card.
Another non-negligible aspect to consider is free shipping. 90% of consumers would buy online more often if they had the option of free shipping, and you don't want that to be the reason they abandon their carts.
In today's retail world, it's crucial to merge your physical and digital storefronts. Your customers are likely to view your gift guides on different channels or platforms, so you need to ensure that they're always polished. If you're creating a digital guide, make sure it's responsive, so customers can view it easily whether they're on their computer or phone. 
Design is key. You want it to be different from the rest of your blog, but you also don't want it to completely distract from what you usually publish online. If you're looking for a unique way to create a compelling holiday gift guide, you can use a program like Canva. 
The content and design of your holiday gift guide are just as important as the items and ideas you include. If you prefer to create a gift guide in the form of a blog post, create a list post that provides more details about each product and category and links to the appropriate collections or product pages. Then distribute your landing page or blog post through email marketing and social media.  
Invest in high-quality paper and printing if you are distributing physical gift guides. The goal is for people to read your guide rather than throw it away like a cheap flier. And whether you're creating physical or digital guides (or both), use only high-quality original images. Gift guides are supposed to be visual, and using poor-quality images is a no-go.
Final Words
The holiday shopping season is a busy and stressful time for retailers and consumers alike. More shopping is going on during that season than at any other time of the year. One of the best ways to make the most of this time is to leverage holiday gift guides by organizing and creating them for the right target audience and investing in promotion. 
The best way to prepare holiday gift guides is first to leverage your point of sale data. Sales reports are essential to know what customers want. Make sure to showcase your holiday gift guide. Categorize your products according to your target audience. Remember to leverage your inventory management software so you don't run out of stock on the holiday gifts you have to offer.