Aesthetic plastic surgery is booming worldwide, with people spending more than $48 billion on the cosmetic procedure by 2026.
If you're considering plastic surgery, you probably have a lot of questions.
You don't know how to find a good plastic surgeon you can trust and probably don't know what to look for.
You'll also be wondering what to expect, how much it will cost, and how long it will take to recover.
But the bottom line is that there are things you need to consider, and without the right guidance, it's easy to end up with results you're not happy with.
So, we will cover everything about how to find the best plastic surgeon for you.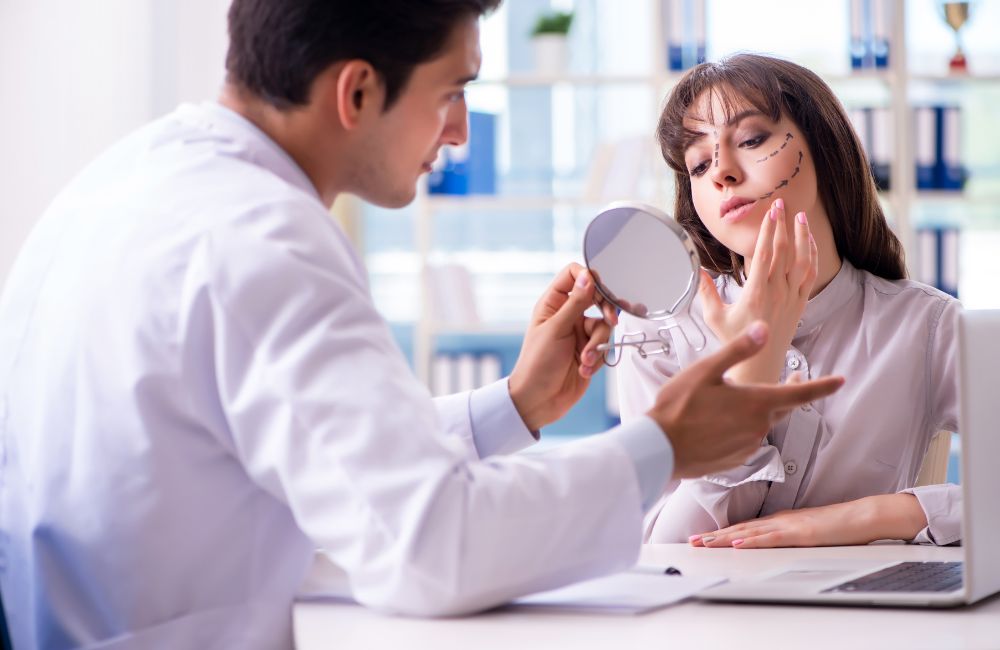 Why You Need to Find a Good Plastic Surgeon
Expertise. A qualified plastic surgeon has the best experience handling a variety of procedures. Their expertise won't be limited to one type of surgery, so you can be sure that the results will be consistent and reliable.
Years of surgical training. By doing so, they will be able to perform plastic surgery procedures correctly and safely, and they will answer all of your questions.
Experience. It will help them work with patients with different skin tones, medical histories, lifestyles, and body types. They'll be able to create a custom surgical plan just for you, you can expect perfect results.
Good reputation. You can be sure they'll do a good job because they've done cosmetic and reconstructive techniques on a lot of people.
Able to provide you with a consultation. You'll have the chance to talk to them about your options and receive potential risks and benefits, as well as a price quote for whatever procedure you want. By doing this, you'll be able to decide if the surgery fits your needs.
What To Look for in a Good Plastic Surgeon
Whether you are looking for breast augmentation, a tummy tuck, or some other type of cosmetic surgery, be sure to choose the right doctor unless what you want is to end up unhappy with your results.
Choosing one can be a bit overwhelming, but here's what you need to know.
Search For Board Certification in Plastic Surgery
While you are trying to shortlist a good candidate, always look for board certification by the American Board of Plastic Surgery (ABPS), the American Society for Aesthetic Plastic Surgery (ASAPS), and the American Board of Medical Specialties (ABMS). Look for proper credentials before scheduling a consultation so you don't end up disappointed.
To maintain board certification, a medical doctor must take a renewal exam every 10 years, so anyone who is a board-certified plastic surgeon will be the right fit.
Getting medical credentials right can be confusing, especially if you don't understand jargon: simply look for the words certified by the American board of cosmetic surgery because this proves the person has been certified based on safety standards and procedure quality.
Study their Approach and Style
Another thing you should keep in mind while finding a reputable cosmetic surgeon is to understand their style and bedside manner. The right surgeon should not only be medically qualified but also artistically inclined.
Since every body is different, they should be able to customize their treatment to suit your aesthetic goals. An experienced surgeon can customize treatment based on your situation to meet your final goals. To find out if they're successful, look at their before and after photos and analyze their results.
Vet The Facility
Another consideration is an accommodating and accredited facility. The facility you are considering can perform plastic surgeries outside the hospital, so taking a tour will give you a sense of its quality, safety standards, and patient care. To be sure that a credible organization accredits the facility, look for any of these certifications:
State license
American Association for Accreditation of Ambulatory Surgery Facilities (AAASF)
Joint Commission on Accreditation of Healthcare Organizations (JCAHO)
Accreditation Association for Ambulatory Health Care
How To Conduct a Thorough Search
If you're wondering how to choose a plastic surgeon, start by researching. Plastic surgery is a lifelong, irreversible procedure, so you need to choose one who is skilled, qualified, pleasant, and vetted.
How do you accomplish that? Where do you start looking? Start your search with these tips:
Seek recommendations from family members, friends, and acquaintances who have undergone procedures before.
Read up about a few best surgeons in your area, so you don't get scammed.
Skim the internet with a healthy dose of skepticism since nothing can be too perfect to be true.
Be patient and trust your gut. Also, read some reviews and personally speak with the surgeons.
What Questions to Ask
Because cosmetic surgery and finding a qualified plastic surgeon is a daunting endeavor, it's essential to ask the right questions when you meet with the surgeon. But if you're not sure what to ask, here are some ideas.
Am I the right candidate for the procedure?
Are you board certified?
Have you been accredited to perform surgeries?
Can this procedure cause side effects or consequences?
Can I see some before and after photos of the candidates who have undergone this procedure?
How long will my recovery take, and what can I expect?
Are there any complications or risks involved?
How will I know if the cosmetic operation was successful?
How To Know If You've Found the Right Plastic Surgeon
The surgeon has years of plastic surgery residency and frequently performs your desired procedure.
Your surgeon listens to your concerns and understands your situation well.
You have checked the credentials of the surgeon, and they are qualified to perform various types of cosmetic surgery.
You feel comfortable asking them questions. Your surgeon will be happy to talk to you about what procedures they specialize in, what their experience is with those procedures, and how much discomfort to expect.
The procedure is clear to you before, during, and afterward.
The Importance of Reading Reviews
To find the top rated plastic surgeons near you, read the reviews of the doctor before making an appointment. Choose a clinic that's close to you, and that's convenient. Say you live in Warsaw, find the nearest clinic like Warsaw Aesthetic. The reviews can give you a good idea of how the doctor operates and whether or not you are a good candidate for surgery.
A testimonial can also give you a glimpse of what you will look like before and after the procedure. Moreover, the photographs reveal the skillsets of the surgeon.
If you are reading reviews, keep in mind if the reviewer had a favorable or adverse experience with the doctor. Did the reviewer have to wait long for their appointment? Did the doctor answer all of their questions? Did the doctor seem knowledgeable about the procedure?
It's helpful to read reviews before going to the doctor, so you know what to expect, and it can help you avoid unpleasant surprises.
The Procedure: Risks and Complications
While plastic surgery has many risks and complications, most patients can go through it safely with a little knowledge and preparation.
To begin with, any type of surgery carries some risk. Even the simplest surgery can have complications, and the risk increases as it gets more complex.
Secondly, have a realistic idea of what you're getting yourself into. Ask your surgeon a lot of questions about the procedure, the risks, and the possible complications. As a result, you can make an informed decision and minimize any risks.
Lastly, prepare for the aftermath. Plastic surgery isn't always easy, and the results may not be what you expected. Expect swelling, pain, and bruising, and be patient as the healing process takes time. Ultimately, you'll be glad you went ahead with the surgery.
Types of plastic surgery
Breast enlargement or augmentation
Buttock lift
Breast lift
Breast implants and removals
Facial shaping, implants, soft tissue augmentation
Dermabrasion
Blepharoplasty (eyelid lift)
Forehead lift
Facelift
Hair transplant
Lip augmentation
Liposuction
Rhinoplasty
Lower body lift
Thigh lift
Abdominoplasty
Botox
Laser treatment and skin resurfacing
Facial rejuvenation
Having plastic surgery exposes you to various risks, so you should be aware of the common ones. Here are some common risks you should know:
Reaction to anesthesia, including blood clots and pneumonia
Scarring
Infections
Fluid buildup
Mild to excess bleeding
Separation at the incision site
Nerve damage
Bruising and redness
Skin irritation or pain
Aftercare: Following Your Surgeon's Instructions
Following the correct steps after the surgery is as essential as pre-surgery care. Before discharge or outpatient surgery, your surgeon will give you a set of instructions. You'll also get prescriptions and medications like painkillers and antibiotics. Also, here are some things you can do for yourself.
Keep all skincare products away from your skin unless your doctor tells you to.
Use extra sun protection.
Give your wounds time to heal, and avoid picking or peeling your skin
Stay hydrated and consult your clinic if you have any problems.
Making the Decision
Finding the best plastic surgeon can require a lot of time and effort. After all, you wouldn't take your car in for repairs at a junkyard, which is why you should do the same with your plastic surgery.
You need to make sure you find a plastic surgeon who not only specializes in your area of concern and has the qualifications, experience, and track record you are looking for but also has your best interests at heart.
In the end, any procedure will be a process that involves both the surgeon and the patient. You need to find a potential surgeon you can trust to help you achieve the results you want.