A 60 Minutes/Vanity Fair poll once concluded that 56% of Americans believe in love at first sight. If you're on a first date with one of those starry-eyed dreamers, you don't have much margin for error with your date night clothes.
No pressure!
Don't reach for the Xanax just yet. Take a deep breath and remember: If people in the '80s could fall in love with all that ridiculous hair and aggressive neon, you are probably going to be just fine.
Still, you may want to gather more intel on what your date night clothes say about you. Read on for the run-down of date night styles, from classic to sexy. For each style below, I've included tips on how to elevate these go-to looks.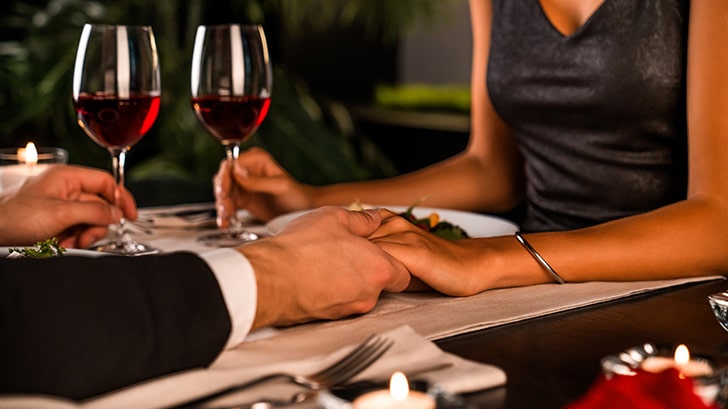 Caveat: If you have no sense of humor, you won't enjoy this post. You might click away now. Otherwise, I fear you'll be inclined to let me know in the comments that I'm stereotyping and offensive and whatnot. You are entitled to your opinion, as am I. Please trust that this is written in good fun with no intention to be nasty.
Date night clothes and the message they send
1. Classic
What classic date night clothes looks like: Your go-to date night outfit is a black sheath or a-line dress, softly pulled back hair, heels, and a jewelry statement piece.
The message you're sending: Put a sign on your forehead that reads "future wife material." The classic look is sophisticated and almost professional. You have your sh*t together.
How to elevate the look: Add a splash of color or a fun pattern with one of your accessories. Let your date you have a wild side. Pair your classic date night outfit with neon heels, a sexy red camisole, a bright, bold belt, or a leopard print bag. You could also simply swipe a lush red lip pigment across your lips. Get a little wild.
2. Hipster chic
What hipster chic date night clothes look like: You don't think twice about wearing vintage black glasses on a first date. The rest of your outfit consists of skinny jeans and a flowy top, or leggings with a tunic and slouch beanie. Casual is your default.
The message you're sending: You are a pixie dream girl. Fun, in the moment, but maybe too flighty for a long-term gig.
How to elevate the look: Your go-to outfit is spot-on for a coffee date. If you want to shift into a more grown-up vibe, try pairing your leggings with layers that are more structured, like a button-down top and blazer.
3. Ultra casual
What ultra casual night clothes look like: You. Only. Wear. Jeans. Sure, you can dress them up or down to some degree, but your selection of pants in the closet is 90% jeans.
The message you're sending: Jeans, even the tight and sexy variety, tend to say, "let's be friends." If you're finding that your dates end up being drinking buddies instead of something more, the jeans might be the culprit.
How to elevate the look: Get out of your comfort zone and wear a dress. If that's going too far, try a straight-leg trouser that isn't made of denim. Pair it with a very soft sweater, mauve lips, and a pendant necklace. Anchor the outfit with ankle boots.
4. Sexpot
What sexpot date night clothes look like: You're showing a little leg, a little boob, and all of your shape. If it's not tight and short, you're not wearing it.
The message you're sending: You might want to communicate "strong and sexy," but you may be saying, "free to good home." Like it or not, people of all genders make snap judgments — especially about ladies who bare it all, or most of it.
How to elevate the look: To be strong and sexy, show off one asset at a time. If you highlight your cleavage, cover your legs. Showing off your back? Keep the girls in front under wraps. Sexy isn't about giving it all away. Sexy is about the slow reveal.
5. Boho/rock gothic
What rock gothic date night clothes look like: Mid-'90s Sienna Miller and Zooey Deschanel are your fashion icons. You gravitate towards flow-y dresses, flats, earth tones, and long belts. 
The message you're sending: You might be thinking you're "romantic and wistful," but this look can easily slip into "homeless and poor" or "free spirit who won't be fenced in." 
How to elevate the look: Pair a flow-y maxi skirt with heels (not sandals) and a fitted top. You could even add your belt here. In other words, balance your boho style with more modern pieces. So if you're dying to wear that tiered floral skirt, keep your top and sleeves tidy.